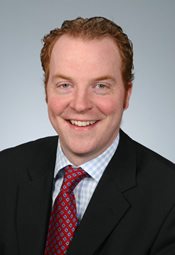 Mark Horton is an experienced attorney that has litigated every level of criminal offense in Minnesota. With a focus in the areas of criminal defense, civil commitments and guardianship / conservator-ship cases, Mark centers his practice around each individual client's particular needs and concerns to provide you with an excellent defense. Continue reading to learn more!
Every business has a story, tell us yours.
I graduated from law school in 2002 and worked for a mid-size firm and then the City of Bloomington before starting my own practice. I created Horton Law Offices to branch out from criminal law. Eight years later I still practice criminal defense, but also do civil commitments and civil contempt proceedings.
You were chosen as this month's Milestone Client. Tell us about your Milestone achievements.
I've been able to expand my legal practice into the areas of civil commitment and civil contempt proceedings. These two areas of law are fascinating because they allow me to interact with people at their most difficult times and to tell their often difficult stories to the judge.
No one likes to brag about their business, but if you HAD TO . . .
I'd say I do a nice job of advocating for my clients in court.
We learn from our mistakes, especially in business. Give us some words of wisdom.
What you are doing right now isn't necessarily what you will be doing in ten years.  I started as a criminal defense firm, but eight years later I've expanded my practice.
Share the best advice you ever received.
Be nice to everyone on the way up because you will eventually meet them on the way down.
Describe your perfect day off.
Relaxing with my wife and kids and attending multiple hockey games.
What might someone be surprised to know about you?
I really enjoy cooking and the Food Network a lot.
Together we are stronger. Tell us something you like about being our client.
The staff at France OffiCenter are great! They have been so accommodating and nice to my clients.
If you could work anywhere under the sun, where would you choose?
Sanibel Island, Florida. We vacation there every year and it's such a special place for me.
How can people CONNECT with you?
Email is the best as I'm frequently in court. My email address is mark@hortonlawmn.com