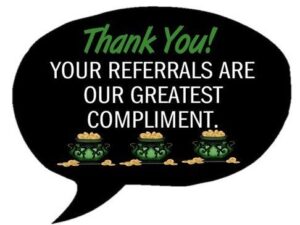 60% of our new leads in 2017 have come from referrals within our community. This number is astounding and we are proud that so many of you value our spaces and services. Below, a few of our CONNECT all-stars share why they refer their friends and family to OffiCenters and VirtualOffiCenters.
"I love OffiCenters. Having been a member and 'raving fan' for over six years my clients are continually impressed with the staff, contemporary office spaces, drop in space and positive energy. They want to stay and hang out after my Online Branding and LinkedIn Consulting sessions just because it's such a cool place. I'm grateful to Jill, Jan, Kelsey, Lisa and the whole team for making me feel like they are on my team. Big thanks to the visionary founder, Lori Spiess, for her innovative approach to creating meaningful community connections. I talk up OffiCenters wherever I go. They want everyone to succeed and they succeed at it!" -Anne Pryor, Meaningful Connections
"I refer people to OffiCenters because I think the staff is fantastic, the space is great, and it's fun to work around other small business owners.  Overall, it's a great place to work." -J. Ashwin Madia, Madia Law
"It is my pleasure to recommend OffiCenters and VirtualOffiCenters to entrepreneurs and business owners who value a strong community focused on powerful relationships, growth and learning and lead generation.  Our connections, along with the best staff--creates amazing results for our community and our clients.  If you want to grow your business . . . this is the place to be!" -Judy M Zimmer, Executive Coach & Branding Expert
"I refer people because OffiCenters meets their needs for professionalism and community building, most of the people I refer never heard of OffiCenters. The bonus is the referral fee that reduces my rent. Mostly, I like helping people be happy and OffiCenters makes business people happy." -Jim Jurewicz, The Brainstorm Company
"Who else would I refer them to? Seriously. We chose OffiCenters because it's the best option for a professional office that will make you look, well, more professional." -David Goldman, The Laughing Stockbroker
"I joined VirtualOffiCenters last Fall and my productivity and network of contacts has already increased. I needed a place to meet and conduct business that is accessible, well equipped, with good support and projects and image of professionalism; and VOC meets all the requirements. I have meet a good number of quality business owners and professionals that enhance my network of contacts. Thanks, VOC, for your support, and keep making me look good with my customers and business partners." -Juan Ramirez, Marcelita's Cookies
As a proper THANK YOU, we are doublin' our referral bonus for the Month of March!