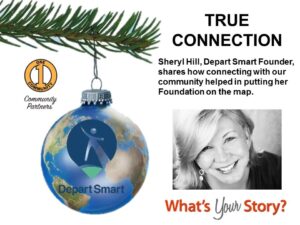 Sheryl Hill, Founder of Depart Smart, is committed to providing tools and information to help parents, youth and chaperones identify risks and take positive steps to mitigate these risks while studying and traveling abroad, helping to depart smart and return with a safe journey. Below, Sheryl shares how connecting with the OffiCenters community has helped put her foundation on the map.
Depart Smart began as a bootstrap nonprofit working from a home office and meeting in libraries and coffee shops. Our work can be intimate, helping bereaved parents and siblings, and other traumas. We honestly didn't think we could afford an office, especially one as prestigious as VirtualOffiCenters or that we could be part of coworking for the price of a Starbucks coffee a day, still get the coffee, and network with amazing small business professionals! I am so grateful to Kevin Ehlinger, Owner of Think Creative, for inviting me to cowork at VirtualOffiCenters and introducing me to their great team.
Our coworkers have been the wind beneath our nonprofit's wings. I have administration support, fundraising, legal advice, accounting support, strategy and planning, Google Adwords consulting, tech support, speech writing, PowerPoint production, advisers, even humorology within a door knock of our office. It also brings a trusted network of business associates that I can lean on to share trials and triumphs, mine and theirs. We lift each other up as we climb. Depart Smart is a case study of success from a community of professionals who genuinely care for each other.
Study Abroad safety laws were written in these walls. Our business and board meetings are held in high energy offices around the cities, our conference space impresses our sponsors and strategic vendors while maintaining a frugal position. Major news seeks us out. We've done many television and radio interviews from our office. We are close to a revenue model to become self-sustaining. We've won awards like MN Cup semi-finalist, Guidestar Platinum and Emmy's and Tellys. We look forward to coming to work every day. This is what OffiCenters means and brings to Depart Smart.