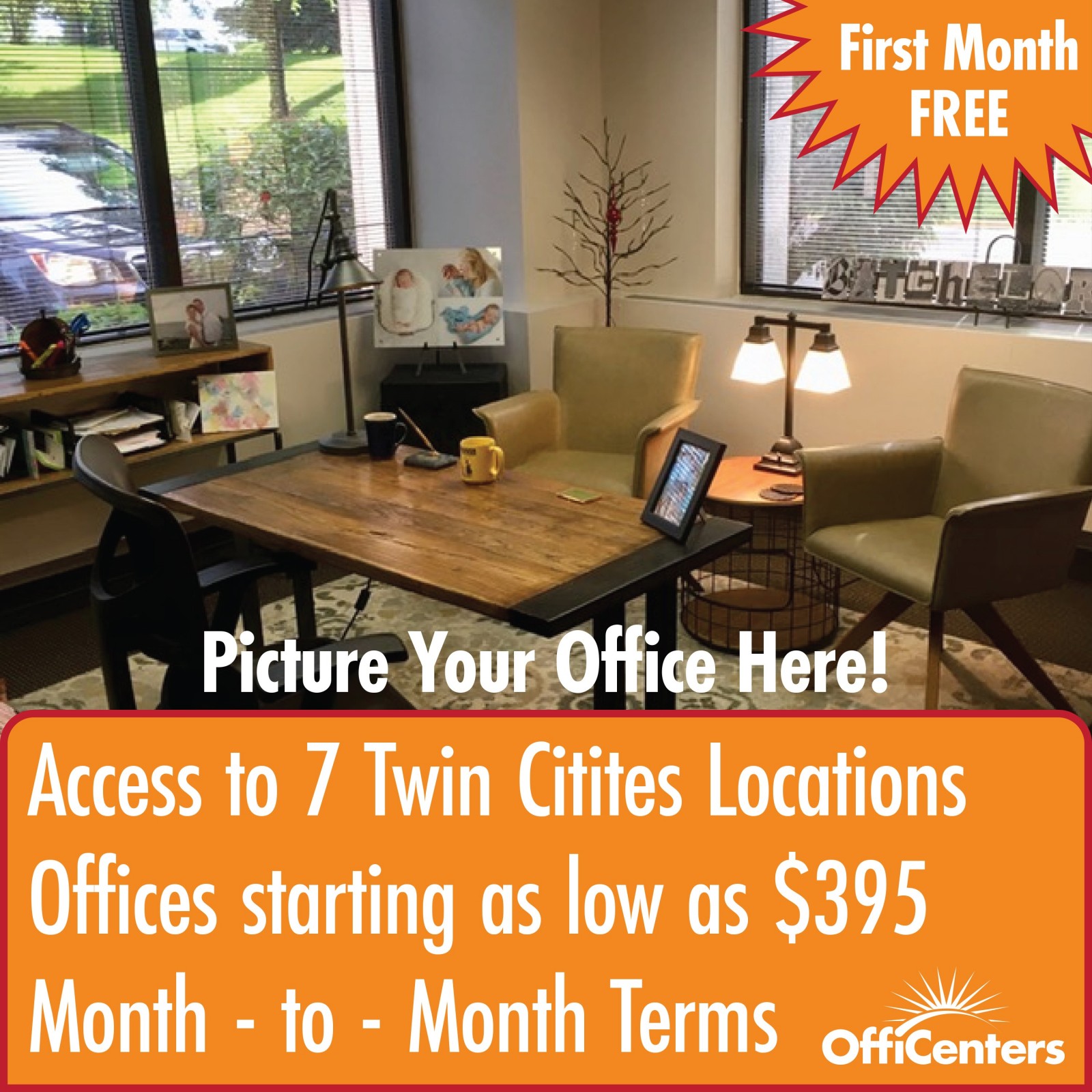 The home office can have its shortcomings, including lack of space, productivity, privacy and the feeling of isolation. For as little as $395/month, members enjoy the ability to work in a dedicated, professional workspace and still be close to home.
We have been providing office space in the Twin Cities since 1981. Private offices include 24/7 access, on-site administrative team, meeting room allowances, shared facilities, business services support, secure fiber internet,  custom phone answering and Starbucks coffee. You get the best of both worlds by having ownership of your own office paired with our premium services and amenities.
Whether you are a start-up or a seasoned business, we can help take you to the next level. Offices sizes are well-suited for both single person operations as well as medium sized businesses looking for flexibility. Private offices include free access to all 7 twin cities coworking spaces and airport shuttle parking privileges. And you get all of this with only a month-to-month commitment!
Need even more flexible options? We have furnished private offices available for both weekly and daily rentals too!
Our buildings offer a wide array of benefits as well, including indoor bike racks, workout facilities, showers, 24×7 secured access and food options. Contact us below and we will create the right WORK AWESOME package for you.
The local coffee shop and a wireless connection just don't cut it. OffiCenters provides good meeting locations and a professional staff that helps me accomplish my goals and objectives.

- Phillip Wright, Broker Bank
24/7 Workspaces
Shared Facilities
Business Services
Telecommunications
Our 24/7 workspace packages include:
Dedicated and secure private offices
Onsite Community Manager
High Speed Fiber Internet Connection
Customized VOIP phone system
Integrated voice messaging
Building Directory Listing
Shared receptionist and lobby
Access to coworking space and wifi
Awesome support team
Networking, education and free workshops
Meeting and Conference Rooms in 7 Twin Cities Locations
Training Rooms available in 30 minute increments
Free CoWorking and Collaborative Spaces
Café Style Kitchen and Coffee Bars
Full Color Copiers and Scanning
Mail Sorting and Shipping
Courier Services
Notary Services
Document Creation and Production
Remote & Work at Home Capacities
Detailed Long Distance Accounting
Find me/Follow me Options
Full Video Conferencing Center in Bloomington