PowerLunch
September 28, 2017 @ 12:00 pm

-

1:00 pm

FREE
Event Navigation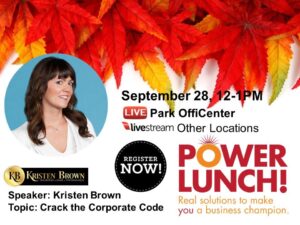 Speaker: Kristen Brown, Keynote Speaker & Bestselling Author
Topic: Crack the Corporate Code: Make More Money and Impact More People

Session Description:
You're a smart and savvy expert who helps people every day. But breaking into the corporate market where there is unlimited opportunity to charge higher fees and connect with bigger audiences can be confusing and frustrating. Whether you've worked in the corporate trenches or not, learning the latest trends, language, and needs of the busy corporate professional requires a mindful strategy that is much different than you may be using with your current client base.
If you want to increase your revenue with corporate clients, you need to understand how and why they hire outside experts and how to shift your brand, marketing, and message to fit their discerning needs. Kristen Brown spent 15 years in traditional corporate America working for and with diverse companies from Fortune 500s to start-ups around the world. Today she speaks to corporations for five-figure fees and knows how to create, tweak, or completely overhaul a brand for bigger paychecks and bigger audiences.
Learning Objectives:
1. Understand what corporate audiences want and need and how your brand should map to them.
2. Discuss corporate niches, types of groups within corporate entities, and how to get in front of them.
3. Open time for Q&A and hot seats to identify YOUR opportunities in the corporate market.
Speaker Bio:
Recently named a top 20 trailblazer in the meetings industry by Meetings Today magazine, Kristen Brown helps busy professionals transform their goals into productive leadership, sales, and personal growth strategies despite the stresses we face every day.
She is a keynote speaker and bestselling author who partners with people-centered organizations around the U.S. to boost market share and the bottom line including General Mills, PCMA, Cargill, Boston Scientific, Cox Automotive, Retail Value Chain Federation, Target, and more.
Kristen spent 15 years in corporate leadership roles before a personal tragedy prompted her shift to starting her own business. She has shared her expertise extensively in the media including Live with Kelly, Inc. magazine, Forbes, Fox, BBC, Psychology Today, and many more.
She lives in Minneapolis with her daughter and will do just about anything for bacon or an extra hour of sleep.
To learn more, visit KristenBrownPresents.com
Related Events