Celebrate CoWorking This Week!
Event Navigation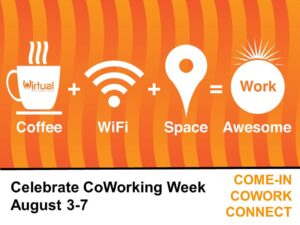 Any day this week, bring a friend to work! We want to give them a WORK AWESOME Experience and we'll give you an entry into a prize drawing for $250 Visa Card!
More Friends = More Chances to WIN
On Friday, International CoWorking Day, we have a dynamic FREE Social Media Seminar presented by Dave Meyer from BizzyWeb. This is FREE and open to all.
Then, stop at the front desk to See How We Roll! Any 7 rolled by a member will win a VirtualOffiCenter Baseball Cap and an additional prize drawing entry. Any 7 rolled by a friend will win a VOC Basic Plan FREE for one month.