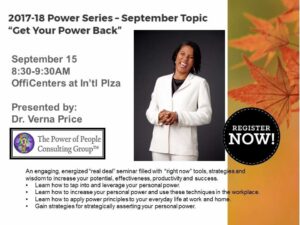 September Topic: "Get Your Power Back"
An engaging, energized "real deal" seminar filled with right now tools, strategies and wisdom to increase your potential, effectiveness, productivity & success.
– Learn how to tap into and leverage your personal power
– Learn how to apply power principles to your everyday life
– Gain strategies for strategically asserting your personal power
– Increase your personal power and use these techniques in the workplace.
Cost for this in-person seminar and webinar via www.gotomeeting.com is $129.00. Please register HERE or contact us at 763-535-5711 for any questions and to obtain an access code for the webinar.