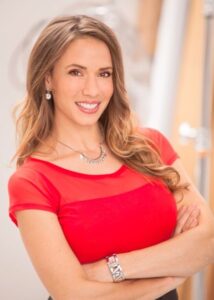 April Davis, Founder of Cupid's Cronies, wants to help send you on your last first date! Her diverse background gives her a wide array of experience and understanding of various types of people and if there was one thing she knows more than anything – it is how to help people find love. Learn more about April below!
Every business has a story, tell us yours.
In 2010 while working at a Fortune 500 company, I realized there was a niche opportunity within the dating industry. Although online dating had grown in popularity, there was still much left to be desired for many singles while searching for that special someone. This is how I came up with the idea to pursue my passion in helping people find the person they can spend the rest of their lives with and founded the upscale matchmaking company for professionals and Executives, Cupid's Cronies. By leveraging my business network and process improvement and finance background to create systems and procedures in order to help streamline internal processes, I was able to help clients receive the best possible experience when it came to personalized matchmaking and date coaching. Additionally, my Life Coaching certification helps clients put their best foot forward so they're not just getting dates, but also relevant feedback to help them be successful in attracting the right one. Cupid's Cronies not only provides coaching to clients, but will go out and help clients select wardrobe, new hairstyles, etc. to help them put their best foot forward. We also act as a wingman/woman in social situations to introduce and coach clients about attraction and meeting people.
Cupid's Cronies emerged from my passion to help people find love. I took on the risk of founding my own company and turned that risk into a success. I have worked incredibly hard to expand the company and make it as successful as possible. I started as a small start up competing against many corporate franchise types, whose models were basically introduction services. I soon realized that it wasn't as easy as introducing two people who were looking for each other. I knew that if I was going to be successful, I would have to help clients to be successful when it came to attracting and retaining a healthy and happy relationship. My team and I obtained Life Coaching certifications and used these tools to teach clients techniques to develop connections, improve communication skills, flirting, and just be better daters overall. I changed my focus to a more holistic approach as Date Coaches coupled with Matchmaking, which helped not only my clients to achieve better results, but the company's relationship success rate to be over 90%.
You were chosen as this month's Success Client. Tell us about your most recent Success.
Cupid's Cronies has recently expanded to 8 new locations, nearly doubling our previous reach. This year, we were awarded Colorado Biz Magazine's Top 100 Woman-Owned Companies, as well as Top 25 Most Influential Young Professionals in Colorado. We were named as Finalists for Better Business Bureau Minnesota/North Dakota Awards For Ethics, and were nominated for awards including South Florida Business Journal's 40 Under 40 awards, Twin Cities Business' Wonder Woman Award, and Denver Business Journal's 2016 Outstanding Women in Business.
No one likes to brag about their business, but if you HAD TO . . .
Cupid's Cronies goes above and beyond the industry standard by not just introducing singles to each other, but also providing both parties with coaching and advice to help them be more successful. This is accomplished in part because of our marketing strategy to develop dating guidelines and educational video blogs to help clients and reach a wider audience.
Cupid's Cronies has differentiated ourselves from our competition by providing upscale singles who want a long term relationship with a way to meet each other without the tedious work and dangers of online dating as they provide background checks and in person interviews of all matches.
Additionally, all Matchmakers are certified Life Coaches, which is unique from all other similar services as there is not a certification process for Dating services. Cupid's Cronies wanted to leverage tools from similar business models in order to best serve their clients.
We learn from our mistakes, especially in business. Give us some words of wisdom.
Constantly strive to learn, try new things, and seek advice from others. There are so many resources out there (books, mentors, etc.). Take advantage of it.
Share the best advice you ever received.
People will always tell you why it won't work and what's wrong with your idea. Don't let this scare you away, but consider the feedback.
Describe your perfect day off.
Hanging out with family at the lake on a nice sunny day. I love pulling my nephews and nieces around in the boat while they're tubing.
What might someone be surprised to know about you?
I was a Professional Snowmobile Racer for 10 years.
Together we are stronger. Tell us something you like about being our client.
The staff are awesome. They're always very friendly, helpful, and super encouraging.
If you could work anywhere under the sun, where would you choose?
I'd have to say the Mediterranean, but it'd be pretty hard to get any work done 🙂
How can people CONNECT with you?
April@CupidsCronies.com, 1(855)62-CUPID