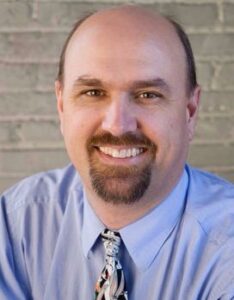 Joe Pepka, Owner of Peptronics and computer support professional, helps you take the SH out of IT. Peptronics offers convenient and cost effective solutions to your computer set-up, repair or install needs and provides the best service to deliver the best results. If you are looking for your "hole-in-one technical professional", Joe Pepka is your ace. Continue reading for more from Joe.
Every business has a story, tell us yours.
I have been doing Computer Support and Repair for over 20 years. For the first 15 years I did it part time on nights and weekends for a handful of clients. In 2010 I decided to go to work full time on my business with a partner. After about a year of doing that it turned out that my partner wanted different things than I did so we split. In 2011 I ran into Lisa O at a networking event and she introduced me to OffiCenters & VirtualOffiCenters and all of the great meeting and networking events that they had to offer. I have been doing a lot of networking and meeting people over the last 4 years and I have a great and solid business of clients. Some are from OffiCenters and some are other clients that I have gotten from other networking events. All of my business has been referral basis. I have not done any marketing or promoting of myself in any other manner.
You were chosen as this month's Success Client. Tell us about your most recent Success.
I got a referral from one of my past clients for a new client. She had e-mail issues and wanted to make some changes to how things were being sent and received on all of her devices. We spent over an hour on going through exactly what she had for her existing system and how everything was connected. After understanding how everything worked we came up with a plan on making the changes from a POP3 account to an Exchange account. Over the next couple of days we got everything changes over and all of her old e-mail out of the old server into the new server. Once this was all done we setup all of her devices. She had two laptops, a desktop and phone and an Ipad. Now that they were on an Exchange account I showed her how we could delete an e-mail on her phone and it was gone on her desktop. Then I showed here about creating appointments in Outlook on her desktop and they showed up on her phone with no additional interaction required by her. She was very happy about the success of the new e-mail system.
No one likes to brag about their business, but if you HAD TO . . .
Whenever I go and visit my clients when they have a problem sometimes they can't reproduce or show me the problem or I come in and solve it within 15 minutes and they are very happy with the quickness to those problems. They call me the Magic Man of Computers, because there is no problem that I can't solve.
We learn from our mistakes, especially in business. Give us some words of wisdom.
Keep trying and asking questions. Sometimes it takes a long time to really get down to what is going on or how they want you to solve their problem.
Share the best advice you ever received.
The worst that anybody can say to you is NO!
Describe your perfect day off.
My perfect day off would be at the lake on a weekday. I would get up and sit out on the deck and enjoy the sun coming up on the water. About 8 am I would go and shoot a round of golf at the local golf course. After shooting a fabulous round I would head back to the cabin and grab lunch. I would then spend some time on the water enjoying time boating around the lake. Then I would come in a cook a great steak on the grill with all of the fixings. To wrap up the day I would take my wife out on a sunset cruise on the lake to enjoy the departing day.
What might someone be surprised to know about you?
That I'm an Electrical Engineer from NDSU and that talking to people in networking or seminars is not something that I like to do. As an Engineer I like to be left alone to do my job.
Together we are stronger. Tell us something you like about being our client.
I like being a VirtualOffiCenters client because I see what they have done for me when I have meetings with other clients. I also like the networking and other events that they put together each month to help all of their clients expand their knowledge base and grow as businesses.
If you could work anywhere under the sun, where would you choose?
I would chose to work remote at a cabin that I would own.
How can people CONNECT with you?
The easiest way for people to connect with me is via e-mail or phone. My e-mail is computer@peptronics.com and my phone number is 612-758-0949
See Joe Pepka on September 24 as he presents Windows 10: What You Need to Know at PowerLunch.
Reserve your seat now!