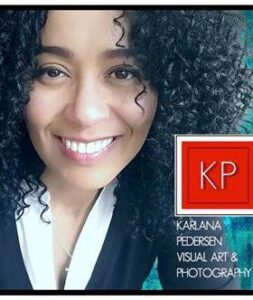 Karlana Pedersen, Visual Art & Photography, specializes in the creation and fusion of both traditional photography and original artwork. She has created her own art-based methodology in order to create her original brand of expertly crafted, heirloom artwork from any photograph or image. Keep reading to learn more!
Every business has a story, tell us yours.
I fell in love with photography and studied the craft for nine years before becoming a professional in 2010 with my previous company Karmichael Media LLC, based in Chicago, IL. Over the years, my catalog of images included fashion and talent photography, lifestyle, editorial photography, child and family photography, and art illustrations.
In 2013, I re-located to Minneapolis with my family. It was Minneapolis' thriving art scene where I went back to my former training in applied arts, and began creating hand-painted acrylic abstract artwork. In 2015, I re-established my new company, Karlana Pedersen Visual Art & Photography, and created a way to combine both photography and art, using my own methodology. All originating in digital form within the computer, and ending in either hand painted acrylic form, or digital graphic art form. All custom and original work available in any format ranging from a computer JPG to a printed or painted wall mural in any size.
I work from home during the summer, but my primary office is at the Park Office location. I also work from two full service studios with my modest team, located in Chanhassen and Minneapolis.
The photography division of my company provides traditional photography for individuals, families, and businesses for special events, portrait photography, and head-shots.
The visual arts division of my company specializes in hand painted acrylic artwork for both homes and businesses, and digital graphic art illustration and production for publications, web design and marketing. All aspects of our photography and visual arts offerings can be combined to create unique, one-of-a-kind, custom photography, artwork, or illustrations for our clients that no one else will ever own.
You were chosen as this month's Innovator Client. What does being an Innovator mean to you?
It is an honor to be considered an innovator. To be an Innovator Client means that I am being acknowledged in my effort to provide added value for my clients. I enjoy doing my best to give back to my chosen field, and to my community by continuing to provide the best customer service and attention to detail, and recognizing possible gaps in the industry that need attention, in order to better service our clients and community. OffiCenters understands that concept and works hard to create a community based membership for the purpose of professional development and support. Giving back, sharing my experience and supporting one another in business has always been a focus of mine. I am proud to support OffiCenters in this effort as well.
No one likes to brag about their business, but if you HAD TO . . .
If I had to emphasize what I like the most about my business, I would say that I believe I have successfully bridged the gap between art and photography. I have created a specific process to successfully create original artwork from current photographic images. I am able to accomplish this process through my own digital to acrylic methodology. My methodology allows me to produce original artwork using a photograph as a template to "de-construct" the image. This process and methodology is original to my company and fully customizable. In addition, I am happy to announce the completion of our new Client Sharing App. Our new online application will streamline how both of our consumer clients, and business to business clients, are able to view, download, and share their photos and digital artwork formats. All without having to download large files on their computers, or devices, and without taxing their individual data usage. Its brand new for all of our clients. It has proven to be a wonderful sharing app for families and friends, and a fantastic selling tool for our business clients, for whom we have partnered with in the image and design industry.
We learn from our mistakes, especially in business. Give us some words of wisdom.
Be fearless. If you have a great idea for a new company or a new project, don't think too hard. Just do it! Sometimes we talk ourselves out of good ideas, or worse, let someone else talks us out of it. If I had known how hard it would be to dissolve my old company, move to a new state, and start a NEW company, I probably would have hesitated. At the time, I didn't know the pitfalls. I am so glad I just did it.
Share the best advice you ever received.
I remember my first corporate job for a tech firm back in Chicago. The President of the company said to me "Karlana, don't be afraid to learn from people who are smarter than you. Be confident and surround yourself with people who know more than you do. Then learn from them." That was the best advice I had ever received. That advice shaped my life and how I approach business.
Describe your perfect day off.
Relaxing all day, watching TV or movies, spending time with my husband, surrounded by our kids.
What might someone be surprised to know about you?
At age 18, I was the only woman in Chicago to work as a music studio sound engineer for several Chicago music recording studios. I was only one of three women in the US back in the 80's working as an analog sound engineer for major record labels. I worked for several major labels and worked with national and local artists.
Together we are stronger. Tell us something you like about being our client.
I have enjoyed being a part of the OffiCenters family. I enjoy all of the networking groups & events, and the efforts made by the OffiCenters group to bring all of their members together. Its been a great experience. I am thankful that I have the opportunity to do what I love, and to meet so many great people.
If you could work anywhere under the sun, where would you choose?
I would work right here in Minneapolis. I love the people, I love the accessibility of the city, I love the Minneapolis art scene. I would like it to be a little warmer during the winter, but hey, I cant have everything right?
How can people CONNECT with you?
Everyone can feel free to contact me at the Park Office, visit my websites or call me directly! I love to meet people, and network. I look forward to meeting my fellow OffiCenters members!