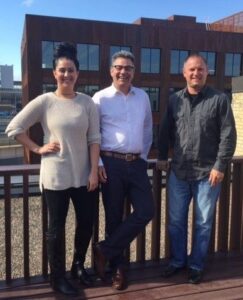 Pat Fleischaker, President of Rose-Fleischaker Associates Inc., strives to exceed clients' expectations every day. Their dedication to customers, business associates and the community has made them one of the premier Versico Roofing System representatives in the country. Keep reading for more from Pat!
Every business has a story, tell us yours.
Kurt Rose and I started this business in 1992 after Kurt left his former business partner. We are independent representatives for products that typically involve the commercial roofing business and work with contractors and the architectural community in MN. ND and SD. Kurt has since retired and now Hannah Fleischaker and Jamie Becker round out the team.
You were chosen as this month's Milestone Client. Tell us about your Milestone achievements.
We started out very small but with a great reputation in the industry. We developed and strengthened our product lines adding a large nationally recognized line of membrane roofing in 1994 that has since had tremendous growth.
No one likes to brag about their business, but if you HAD TO . . .
We have been able to grow every year in business in an extremely competitive environment.
We learn from our mistakes, especially in business. Give us some words of wisdom.
With regard to sales it's all about honesty and never being afraid to ask.
Share the best advice you ever received.
Change your thoughts from what's in it for me to how can I help.
Describe your perfect day off.
Having a day off.
What might someone be surprised to know about you?
I love to play and collect guitars.
Together we are stronger. Tell us something you like about being our client.
The overall business environment as far as getting what we need from the staff promptly has been a big help. Also the location of Union Plaza being close to the local Architectural community and the way the North Loop has developed has been great.
If you could work anywhere under the sun, where would you choose?
Any quiet tropical beach in a comfortable chair with my feet in the water.
How can people CONNECT with you?
patrfa@officenters.com or http://rfassociatesinc.com/index.html