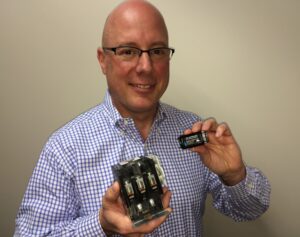 Bob Thorbus, Chief Executive Officer at Arc Suppression Technologies, has a history of successfully achieving what really matters - sustainable, profitable growth. He completed the successful product launch of their new technology: NOsparc® arc suppressor and shares more below!
Every business has a story, tell us yours.
Our product's inventor, Reinhold Henke, began his interest in electricity when he stuck his finger into an outlet at age 6 (which in Germany, carries double the voltage of a US outlet). Since then, he's created over 60 patents and multiple world's-first products. Reinhold and I bonded through our frequent conversations as members of a consulting group several years ago, learning that we each understood the military intelligence ramifications of arc-created electromagnetic interference (EMI) from our respective military intelligence backgrounds. This, combined with our mutual experience in start-ups, led us to partner in bringing this new technology to market.
You were chosen as this month's Success Client. Tell us about your most recent Success.
We were selected as a Finalist in the Energy / Clean-Tech / Water Division of the Minnesota Cup competition.
No one likes to brag about their business, but if you HAD TO . . .
Apart from issues of global human health, it would be difficult to identify a more widespread and costly problem than the one solved by our patented NOsparc® arc suppressors.
Simply put, our products keep relays and contactors from self-destructing and enable them to last at least 10x longer.
You may be asking: "What are relays?" … well, electromechanical relays, which are also known as power contactors, run the modern world. Billions of them are at work each and every day switching current to electrical systems of all types. You'll find them in power plants, cell phone towers, refrigerators, air conditioners, furnaces, dehumidifiers, manufacturing machinery of all types, railroad crossing gates, and in buses, trains and aircraft.
We learn from our mistakes, especially in business. Give us some words of wisdom.
Be quicker to fire than to hire. Anyone can make a mistake in hiring, but neither the employee nor your company is well served by keeping someone around who is not working out.
Share the best advice you ever received.
Always focus on doing the next right thing.
Describe your perfect day off.
One of those rare days that I don't have to take a business call or email and can truly be present with my family.
What might someone be surprised to know about you?
I've run 20 marathons and six ultramarathons: a 50K (31 mile) run, a 50-mile run, and four 100K (62 mile) runs.
Together we are stronger. Tell us something you like about being our client.
Keeping overhead down is crucial during our our early growth. OffiCenters provides us with highly professional meeting space when we need it, allowing us to invest more into our engineering lab.
If you could work anywhere under the sun, where would you choose?
Rather than choose one place, I'd rather have the flexibility to work from wherever in the world I am at the moment.
How can people CONNECT with you?
RThorbus@ArcSuppressionTechnologies.com