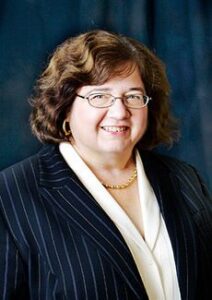 Karen Marty, of Marty Law Firm, has over 25 years' experience in land use and local government law. Karen represents individuals and small businesses who have encountered difficulties in working with cities, townships, and counties and can help with contracts, negotiations, and all aspects of litigation. Read more about Karen below.
Every business has a story, tell us yours.
Twenty years ago I left my position as a city attorney and opened a private practice. I loved being an in-house city attorney, with the broad range of issues that arise. Since going to the other side, I have discovered the wonderful variety of individuals and businesses who come to me for help or guidance. I truly enjoy learning their stories and helping them as they deal with cities, townships, and counties, especially in real estate, zoning, and similar matters.
You were chosen as this month's Milestone Client. Tell us about your Milestone achievements.
My history goes back a pretty long time. My first big professional Milestone was being hired in the City of Springfield, Missouri, and being put in charge of all legal problems of the Community Development, Public Works, Finance, and Health Departments, plus representing the Redevelopment Authority and the Human Rights Commission. We moved to Minnesota, and I became the City Attorney for Shakopee. All told, 15 exciting years. I began my private practice in 1996, and have helped businesses and individuals in many cities and counties, covering everything from insider tips on how to win at a city hearing, up through winning cases on appeal.
No one likes to brag about their business, but if you HAD TO . . .
My clients have found me a great resource for all local government issues. They keep coming back, because they know I will treat them well, handle their issues competently, and give them straight-forward advice to get them through tough times.
We learn from our mistakes, especially in business. Give us some words of wisdom.
Being a solo practitioner is a lot harder than you think. Don't expect it to bring you freedom; it actually means you will work some 14-hour days and some six-hour days, but the rest of the time you still wonder if you should be doing more.
Share the best advice you ever received.
Believe in yourself and trust yourself.
Describe your perfect day off.
Beautiful sunshine and fresh breezes, a couple of hours quilting or sewing, a couple hours playing games or working puzzles, some time with family members, something to take apart and fix, and no chores.
What might someone be surprised to know about you?
I like to fix things and make things. This includes everything from fixing stuck zippers and broken dishwashers, to designing unique nature-oriented quilts, to making jewelry.
Together we are stronger. Tell us something you like about being our client.
OffiCenters has great reception staff, and the "new" France OffiCenter space is marvelous. My clients are impressed and pleased with the facilities and the service.
If you could work anywhere under the sun, where would you choose?
Probably somewhere on the ocean shore – Cape Hatteras, NC, or the Oregon coast. Or maybe somewhere different each month – I would love to travel more.
How can people CONNECT with you?
Call me any time at 952-921-5859, or send me an email at kmarty@martylawfirm.com.