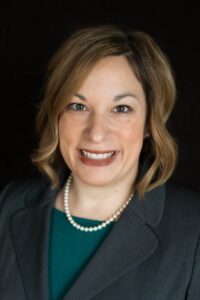 Anna Lima, Principal Attorney and Owner at Lima Law Office, PLLC, is committed to providing quality, personalized legal services to her clients. Whether you are planning for your future and the protection of your family, dealing with the loss of a loved one, or trying to resolve a conflict using an alternative resolution method, Anna will help you find a solution. Learn more below!
Every business has a story, tell us yours.
I have always had the "entrepreneurial spirit" and desire to be a business owner. I decided to combine that with my legal experience and took the leap of faith to open my own law practice.
You were chosen as this month's Milestone Client. Tell us about your Milestone achievements.
I have been a small business owner of my law practice for five years! During this time, I have helped many individuals and families prepare for their future by establishing an estate plan, as well as families looking to establish guardianship for a child. I am also in my third year of teaching as an Adjunct Professor at the University of St. Thomas School of Law in downtown Minneapolis.
No one likes to brag about their business, but if you HAD TO . . .
I have really great clients who are also super interesting people!
I am my own boss and love the flexibility of being able to control my schedule.
We learn from our mistakes, especially in business. Give us some words of wisdom.
If something's not working don't be afraid to change course. One of the most important aspects of being a business owner is finding new, different, and effective ways to market your business in order to gain new clients. The legal profession is very much a customer service business and I am constantly trying to find new ways to deliver excellent customer service to my clients.
Share the best advice you ever received.
Like in all aspects of life, always apply the golden rule.  Treat others, especially your clients, as you yourself would want to be treated.  To me, this means being courteous, respectful, compassionate, and professional. The nature of estate planning includes discussing very personal aspects of a person's life so I do my best to be an empathetic listener while trying to help guide my clients in making the best decisions for themselves and their family.
Describe your perfect day off.
Spending time with my family, which includes my husband and two young daughters, going for a run along the downtown Minneapolis riverfront, and a nice dinner out in the North Loop neighborhood with family and friends.
What might someone be surprised to know about you?
I am a political junkie.  My major in college was Political Science and I have always been fascinated with the political process. This is an especially exciting time to love politics with it being a Presidential election year.
My birthday is on Leap year which means I get an "actual" birthday every four years!
Together we are stronger. Tell us something you like about being our client.
I am really happy with the professional atmosphere that is present in all OffiCenters locations. My clients love that I can meet with them at different locations throughout the Twin Cities and I am confident knowing that each location has the same type of professional atmosphere.
If you could work anywhere under the sun, where would you choose?
On the beachfront in San Diego or the top floor of a high-rise office building in downtown Chicago.  I have lived in both of these cities and have a fond affection for the beach and big city.
How can people CONNECT with you?
Via email at anna@limalawandadr.com or phone at 612-254-5311.
You can also visit my website, www.limalawandadr.com or find me on LinkedIn!