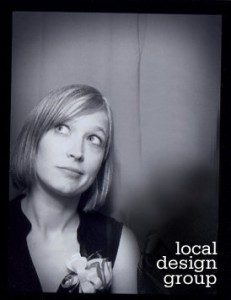 Janna Netland Lover is a graphic designer by day that runs her own company, Local Design Group. By night, she rolls up her sleeves and gets to work with a tape gun and box cutter while managing inventory, orders and retail sales for All Are Welcome Here. Keep reading to learn more!
Every business has a story, tell us yours.
I grew up with some great friends in Maple Grove, Minnesota. In November, racist graffiti showed up on some doors at Maple Grove Senior High. The students and principal had such a great reaction, immediately stating in no uncertain terms that racism had no place at the school and everyone was welcome to learn and be part of the community at that school. Inspired by that, one of my old friends put a design on social media for a lawn sign that she wanted printed for her own house. The sign said "All Are Welcome Here." The response was so immediate and passionate on social media that she sent it out to a few other designer friends (me included) for tweaks and advice. Since then, in just under 4 months, we've sold over 6000 lawn signs, 750 t-shirts, 4000 buttons, 1500 window clings, and 1000 prints at our online store, pop-up markets, and at 6 retail outlets we partner with in the Twin Cities area. Staying central to our mission and inspiration, we are proud to donate 25% of our profit above cost to the ACLU.
You were chosen as this month's Innovator Client. What does being an Innovator mean to you?
Being an innovator is creating a road where none existed before. It's figuring out how to do something without necessarily having a plan laid out before you.
No one likes to brag about their business, but if you HAD TO . . .
I am lucky and humbled to work with 3 other amazing women on this project, and to be able to work daily on something that inherently has so much positive energy. The response from our customers is heartening and exciting. In a time where there is so much darkness and divisiveness, we've found a way to strengthen community.
We learn from our mistakes, especially in business. Give us some words of wisdom.
Just spring for the expensive packing tape dispenser.
Share the best advice you ever received.
Your tools pave the way for you. Get the right tool for the job.
Describe your perfect day off.
It's quiet, and somebody else makes food for me.
What might someone be surprised to know about you?
I'm really good at dancing alone on a dance floor while sober.
Together we are stronger. Tell us something you like about being our client.
Your customer service is excellent. You go FAR out of your way for your clients. Thank you.
If you could work anywhere under the sun, where would you choose?
I like being able to work many different places, so the place I choose differs by day.
How can people CONNECT with you?
My website: allarewelcomehere.us, or my email address: janna@allarewelcomehere.us