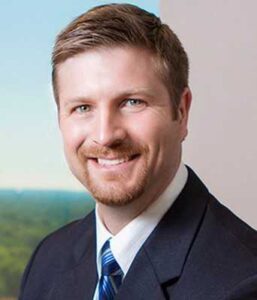 Michael Sheridan is a bankruptcy lawyer who founded Atlas Law Firm in 2012. His focus is on assisting individuals and businesses with debt resolution where he is able to provide one-on-one attention. Michael shares more below!
Every business has a story, tell us yours.
As I progressed through law school, I determined that I wanted to be a business-transactions lawyer. A lawyer who counsels businesses on how to properly navigate the law, negotiate agreements, handle mergers and acquisitions, etc. While in law school I clerked for a downtown firm that handled many business-related matters and was looking forward to being hired as an associate attorney.
I graduated from law school in May 2008, took the bar exam in July 2008 and received the bar exam results to receive my license in October 2008. During that time, the great recession of 2008 was having a very serious effect on the hiring of young business lawyers. So, having to work somewhere, I took a job at the only law firms hiring young lawyers in 2008 – bankruptcy law firms.
I ended up working at one of the largest Minnesota bankruptcy law firms during a time when bankruptcy lawyers were in high demand. I cut my teeth in the practice of bankruptcy law by working a lot of long hours and meeting with many different clients with a vast range of personal finance related problems.
After a few years of working at a few different law firms across the Minneapolis and St. Paul area, I decided I could represent people in bankruptcy better than the large law firms by offering better client service at a more reasonable price, by creating an efficient law firm with low overhead. In 2012, I opened Atlas Law Firm. I started in the Minnetonka area, but soon moved the practice to Bloomington and decided to take advantage of the excellent Virtual Office packages OffiCenters offers.
By doing so, I am able to meet with clients in Bloomington, Edina, St. Louis Park, Minneapolis, Minnetonka, as well as an office location I maintain in Anoka. Because the Virtual packages are so reasonably priced, I can keep my overhead low and compete with larger bankruptcy law firms that have multiple locations and still keep my attorney fees lower than those big firms with large overhead expenses.
You were chosen as this month's Milestone Client. Tell us about your Milestone achievements.
No one likes to think about bankruptcy until they need to think about bankruptcy. Because of this, most people who haven't had to consider bankruptcy have a lot of assumptions about what it is and who it is for. One of the biggest bankruptcy myths is that only people who file for bankruptcy protection are people who are irresponsible or reckless with their money. In fact, most of the clients I represent are people who have paid on their debt for years and then one of three things happens to them: unemployment or a reduction in hours; medical expenses; or divorce. After practicing in this area for the better part of a decade, I've realized that filing for bankruptcy isn't a result of having poor character or being irresponsible, it's because life has taken a turn for the worse and because of a change in income or expenses, a person needs to exercise their legal rights to protect themselves and be able to provide for their family.
My milestones are every time I help someone who was diagnosed with a medical issue that has impaired his/ her ability to work full time in order to pay living expenses and the overwhelming medical expenses. Every time I help a married couple protect themselves from the burdensome debt that results after a job loss so they can still provide for their family: it's a milestone for me. I am able to help people when no other options are available to them and everything seems bleak. I am able to help them navigate the laws so that they can obtain a fresh start.
No one likes to brag about their business, but if you HAD TO . . .
Atlas Law Firm has been growing year after year because I focus my business on excellent client service. Having worked at a number of large law firms, I knew how I didn't want to run my practice. First, I want to ensure that when people come to meet with me, they get my attention, knowledge and expertise. I'm not trying to sell them bankruptcy, force them to sign a retainer and get them out the door in 30 minutes. I am there to listen to their situation, provide them with their options (both bankruptcy and non-bankruptcy) and answer all of their questions.
Second, when someone does hire me, I make sure that I am responsive to their questions and concerns. When they have a question, I am the one who answers it. They are not handed off to a legal assistant or someone else who may not be familiar with their case.
Third, I want to make sure I charge reasonable and fair attorney fees. I've worked at too many firms that seek to up-charge clients at every opportunity. Because of these approaches to running Atlas Law Firm, I am one of the most positively rated bankruptcy lawyers online.
We learn from our mistakes, especially in business. Give us some words of wisdom.
I think it is easy to fall into the trap of taking on everything you think you can in order to make your business profitable and successful. There are certainly times in which that needs to be done. But, if you want to have any kind of work-life balance, you have to be able to know when to say "no" and be comfortable with growing your business at a pace that fits with the rest of your life.
Share the best advice you ever received.
The key to happiness is low expectations.
Describe your perfect day off.
Sleep in, warm weather, sitting near a body of water.
What might someone be surprised to know about you?
I have three children who are 10 months apart and everyone thinks they're triplets. Actually, my wife and I had twin girls and a son 10 months later. We planned for one child and got three.
Together we are stronger. Tell us something you like about being our client.
OffiCenter's Virtual Office packages allow me to efficiently use office space as needed without having to pay for space when I am not using it. The numerous locations around the Twin Cities metro allow me to increase my practice area coverage and maximize the amount of potential clients with whom I meet. The office staff are always polite and welcoming. I am very pleased to be an OffiCenter client.
If you could work anywhere under the sun, where would you choose?
If I could work remotely from the Caribbean, that would be nice.
How can people CONNECT with you?
I am available at the OffiCenter locations of Bloomington, Edina, Minnetonka, St. Louis Park, Minneapolis as well as Anoka. People interested in learning more about their bankruptcy options can schedule an appointment with me through my website at www.atlasbankruptcy.com or by calling 763-568-7343.