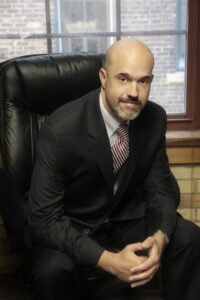 Eric Smith, Owner of Return2Work Solutions, Inc. and full-time client at Union Plaza, has over 15 years of experience developing and implementing successful vocational strategies aimed at expediting and maximizing employment outcomes. Below, Eric shares some major achievements accomplished while being a client with OffiCenters.
Every business has a story, tell us yours.
Return2Work Solutions, Inc. (R2WS, Inc.) was originally formed as a sole proprietorship in October 2007, and later transitioned to S-Corp. status in April 2008 following the acquisition of GS Consulting Group's Minnesota VR Services Division. Return2Work Solutions, Inc. initially provided medical and disability case management services, in addition to placement services, prior to transitioning to a vocational services provider in December 2009.
R2WS, Inc. is corporate based in Minneapolis, MN and currently services clients throughout the state of Minnesota and Western Wisconsin.  R2WS, Inc. has worked hard to establish a well-known brand of integrity, industry expertise, and quality-based outcomes. Our diverse client segments include insurance companies, employers, attorneys, vocational rehabilitation professionals, government agencies and private pay clientele. We are also an approved Rehab Vendor with the State of Minnesota (Vendor #1179).
Return2Work Solutions, Inc. currently provides a variety of vocational and employer-based services to include Career Planning, Vocational Consulting, HR/ Staffing Solutions, Placement Services and Customized Computer Training. Our staff has over 50-years of combined professional experience involving Placement, Human Resources, Vocational Consulting, Recruitment, and Organizational Development/ Management. Return2Work Solutions, Inc.'s successful outcomes and steady market growth is directly attributed to its leadership in developing innovative and pragmatic solutions within the employment services sector.
You were chosen as this month's Milestone Client. Tell us about your Milestone achievements. 
September 2004- Expanded GS Consulting Group's (GSC) VR Services division from Phoenix, AZ to Minneapolis, MN. Expanded Midwestern operations from one to seven states in less than three years. October 2007- started Return2Work Solutions. April 2008- Acquired GSC MN and became incorporated. Nov 2009- Transitioned to Vocational Services firm. January 2014- Added 5th MN employee. June 2014- Referred 400th client October 2014- Formed subsidiary UpgradeU LLC. January 2015- Re-launched company website. *All Milestones achieved while a client of OffiCenters.
No one likes to brag about their business, but if you HAD TO . . .
Known throughout MN/ rehab sector/ our industry as one of the best at what we do per high quality, results-oriented services and outcomes. Known for being ethical, innovative, efficient and pragmatic.
We learn from our mistakes, especially in business. Give us some words of wisdom.
Work hard to create a true work-life balance (this can be achieved). Put service of others first and be willing to take a short-term loss to achieve a long-term gain. Work to mediate and resolve conflict, not create it. Take calculated risks. Enjoy family, time, and money while you have it. Be willing to give credit where credit is due, and take responsibility/ ownership of your actions (good and bad). There are generally two approaches to fear: run away or run headlong into it (I prefer the latter). I've met many highly successfully people during my 15-year career and every one of them tell stories of failure. You can't fully succeed or achieve your fullest potential without being willing to fail.
Share the best advice you ever received.
Always go with your gut, so long as you have a good gut. If not, find someone with a good gut and go with their gut. And, Always keep in mind that you may be experiencing someone on their worst day…
Describe your perfect day off. 
Enjoying the outdoors with family to include some down time to read, play music or write. Followed by a sunset surfing session and a beach campfire under the stars.
What might someone be surprised to know about you? 
I'll share some with you. I am originally from California. I am a surfer. I write music and poetry and I was in a band in college.
Together we are stronger. Tell us something you like about being our client.
Being a client of OffiCenters allows us to be versatile in our service delivery, provides professional environments in strategic locations, and ensures our clients/customers will be treated respectfully.
If you could work anywhere under the sun, where would you choose? 
Twin Cities, MN, or Pismo Beach, CA (if you haven't been there, you need to go visit!).
How can people CONNECT with you?
return2worksolutions.com/contact-us ; or esmith@return2worksolutions.com