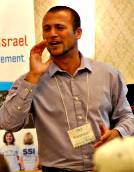 Ilan Sinelnikov, President and Founder of Students Supporting Israel, provides students the opportunity to be a clear and confident Pro Israel voice on college campuses, and to support students in Pro Israel grassroots activity. They started with 2 students and have grown to 43 college campuses and universities in the United States, Canada and Austria. Learn more about Ilan's efforts below.
Every business has a story, tell us yours.
In 2012, my sister and I were walking on campus at the University of Minnesota and we saw an anti-Israel event that was exposing falsities. After we attended the event, we decided to change the way that Israel is seen on campus and started the group called Students Supporting Israel, our mission is to be a clear and confident Pro-Israel voice on college campuses, and to support students in grassroots Pro-Israel advocacy. With time our group in Minnesota grew from 2 students to over 100 people per event. In March 2014, a second chapter of SSI was opened at Indiana University. Today there are 48 chapters of SSI in the United States from coast to coast and schools like UCLA, Columbia University, Texas A&M and more as well as in Canada and in Austria.
You were chosen as this month's Innovator Client. What does being an Innovator mean to you?
Coming up with new ideas that keep people engaged and excited about your business. Making sure that people that you had no connection to your cause before join it, and if they don't they walk away telling their friends about your organization or business.
No one likes to brag about their business, but if you HAD TO . . .
We are the only pro-Israel organization that has ever been started by students and that had such a growth rate into a nonprofit within just two years that over 48 other campuses wanted to join the movement.
We learn from our mistakes, especially in business. Give us some words of wisdom.
If something starts to overwhelm you because you may not have an immediate solution for it, make sure that you do not stay focused on the problem, but realize that there are many creative ways to solve an issue.
Share the best advice you ever received.
Try not to be so narrow minded about things. It is important to be capable to "exit" the situation and look at it as an outsider seeing the bigger picture.
Describe your perfect day off.
Playing and coaching soccer. And enjoying the Minneapolis rooftops with my friends.
What might someone be surprised to know about you?
Even though I am Israeli, my first language was Russian because my family is from Ukraine. When I went to school I learned Hebrew for the first time. In second grade in Israel you start learning English and in 7th grade you can pick between French and Arabic, I picked Arabic it's more important to know in the region, I studied it for 7 years. Over 40 languages are being spoken in Israel daily.
Together we are stronger. Tell us something you like about being our client.
The work environment is always positive. We can feel at the office that we are treated not only as clients, but with respect as people.
If you could work anywhere under the sun, where would you choose?
Red or Dead Sea in Israel, I recommend everyone to visit!
How can people CONNECT with you?
They can follow me on social media by typing my name on Facebook and Twitter, email works as well ilan@ssimovement.org