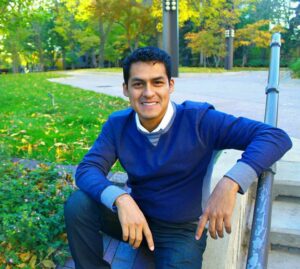 Giancarlo Manrique, Cofounder of The Spanish Learning Club, understands that everybody has different motivations to learn Spanish, and has created customized lessons and curriculum to make sure you enjoy learning and discovering the fascinating language. Keep reading to learn more!
Every business has a story, tell us yours.
I used to teach Spanish to friends and classmates just for fun. Because I liked it, I started to do this more frequently and I could see that every person I taught shared a common denominator, which was they often had the same questions and the same struggles. I thought I could teach them Spanish in a simpler way and make it more interesting for them to learn with me. Shortly after, I started offering Spanish classes one on one for students. Then I opened a Spanish conversation Meet Up where I gained information and feedback on how a person can successfully learn Spanish. A year ago, after some research and conversations with a few educators, I decided to pull out my business background and turn that knowledge into a more solid product. We opened our first program "Spanish for Beginners One" in Saint Louis Park and we haven't stopped since.
You were chosen as this month's Success Client. Tell us about your most recent Success.
I feel very grateful that we have recently received our first corporate customer. After a few negotiations, we are now teaching Spanish to the staff of an important organization in Minneapolis. Now, we look forward to developing that business line and reaching out to more corporate customers.
No one likes to brag about their business, but if you HAD TO . . .
I am very happy for all that we have achieved so far because we started with nothing. We had more plans, ideas, and dreams than resources. Everything we have now has been earned with a lot of hard work and faith. I am very excited for what the future has in store for us.
We learn from our mistakes, especially in business. Give us some words of wisdom.
Throughout my experiences, I have learned that sometimes it's good to make quick decisions based upon your feelings and intuition. I have learned that not everything has to be over analyzed. The fast pace world that we live in will give you the chance to correct mistakes you've made.
Share the best advice you ever received.
My mom used to tell me (actually, she still does sometimes). "Gaining wisdom requires humility so stay humble and stay teachable regardless of how much you know".
Describe your perfect day off.
I love playing and watching soccer, walking around the lakes with my wife when it is possible or doing outdoor activities. My perfect day off would be a combination of that.
What might someone be surprised to know about you?
I think some people get surprised when I tell them that I used to be a drummer and have a rock band. I used to play in local establishments around Chimbote, Peru (my hometown) in my early 20's. I remember once we participated in a local battle of the bands and we took first place.
Together we are stronger. Tell us something you like about being our client.
I love the kindness and the courtesy in everyone that works here. I really feel welcome every time I come to the offices and that makes me feel that I have the perfect space to work.
If you could work anywhere under the sun, where would you choose?
I think I would change my workplace every month if I could. I would go from beach to beach.
How can people CONNECT with you?
Please visit www.thespanishlearningclub.com. We are also on Facebook, Instagram as the.spanish.learning.club and have a company page on LinkedIn.