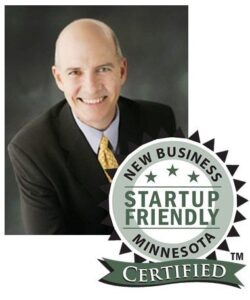 Patrick Boulay, President/CEO of New Business Minnesota, offers a unique publication designed to connect small business owners starting out in the Twin Cities to the services they need to succeed. Pat also runs a B2B networking group that hosts workshops, receptions and networking opportunities for owners and managers of small businesses. Below, he shares how being a part of the VOC community has impacted his business.
Contrary to what science says, the size of the world can vary significantly over time. For example, when I started New Business Minnesota in 2007, the size of the world had been fairly consistent for me. Then I started networking, created my own networking group and met Lori Spiess. My world has been shrinking ever since.
"Small world," is a phrase we all utter when we discover that your new client is married to your neighbor's sister. Once I met Lori Spiess, I suddenly had to say "Small world" more often. What's great about these connections is they are a two way street. I am guessing since we met, Lori is saying it more often, too. Our connection has deepened to the point where Lori serves on our Small Business Board of Advisors with her columns appearing in New Business Minnesota. Roughly three times a year, I take advantage of my VirtualOffiCenter membership by holding my networking events at their locations. I've introduced countless people to OffiCenters and to the great staff.
And because I am part of OffiCenters, I have meet numerous clients, prospects and new friends. When you're trying to connect with people in business, some strategist suggest looking at items on their desk. If it's a golf photo, bring up golf, etc. What is better is connecting inter-personally, or is it intra personally?
"Oh, do you know Lori?" Or "I know someone you should meet." One of my favorites is when a client and I need a place to meet and we both suggest OffiCenters. "Oh, you know Lori?"