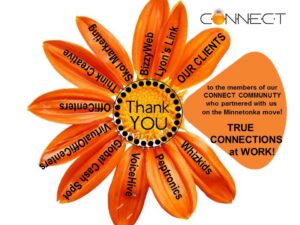 Minnetonka OffiCenter is open, but we didn't do it alone! We had some true connections at work on this project, and would like to thank all of the client members in our CONNECT community that partnered with us.
-Whizkids- Phone & Internet
-Peptronics- Onsite IT Support
-VoiceHive- WordWall
-Global CashSpot- WordWall
-Think Creative- Video & Imaging Updates
-Skol Marketing- Google Search Updates
-Bizzyweb- Website Updates
-Lyon's Link- Online Payment Portal
A special thank you as well to all of our members for your patience and cooperation in the move to Minnetonka. We hope that you love your new office as much as we do!