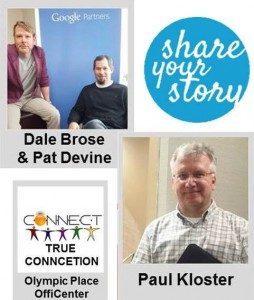 Paul Kloster, VirtualOffiCenters client at France and Owner of PEK Accounting Consulting, is a business professional with experience in leading the accounting and administrative functions in for-profit organizations. Below, Paul shares what a CONNECTION in our community has led to for his business.
2 GUYS MEET AT A NETWORK EVENT
In August 2015, Pat Devine with LTR Digital Group and I struck up a normal networking conversation at an Eden Prairie networking event. During the conversation we found out that we were both OffiCenters Clients. Pat has offices at the Olympic location and I am a virtual client at France. We exchanged business cards and talked about meeting for coffee. A regular, normal, networking interaction – with an OFFICENTER CONNECTION.
OFFICENTER COFFEE MEETING
The next week Pat and I agreed to meet. I had used conference rooms at Olympic a few times and thought – why not just meet there? It is a very friendly place with great coffee!
Pat and I stopped at the kitchen before going to the LTR Digital office. We got into talking about how each of our companies worked with our clients. LTR – helping its clients find customers digitally, and PEK- helping its clients with their accounting. After our meeting, Pat walked out to the Front Desk with me, where I met Jan and Jen; Pat said Jan and Jen took very good care of LTR Digital Group!
THE FIRST BUSINESS MEETING
After our initial meeting, I started thinking of how PEK finds clients – and how maybe LTR Digital Group could help.
A week later, I asked Pat if they could meet and discuss their services and possible interest in helping my company. Pat invited Dale Brose, (his LTR Owner-Partner) to join the meeting.  The meeting discussion centered on how PEK finds clients and what internet-driven options LTR would suggest.
OFFICENTER CONNECTION INTO THE FUTURE
The results of our OFFICENTER CONNECTION will be presented when we have 3 Website Launch Parties - at France, Olympic, and OffiCenters at International Plaza - in late January and early February. At the events, we will also share how we are going to continue our CONNECTION. Look for the event poster in your center and please RSVP!
CONNECT with Pat & Dale at LTR Digital Group or Paul at 612- 850-9086.