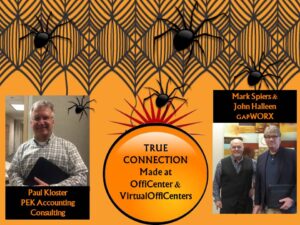 GAPWORX is a management consulting firm based in the Twin Cities that was launched on January 2, 2015, by its two founding partners – Mark E. Spiers and Jonathan S. Halleen. VirtualOffiCenters clients at France, Mark and Jon are active members in our community and below share how attending one of our free networking events led to a re-CONNECT-ion that has benefited their business.
Through various entities, we've been VirtualOffiCenters clients for several years … and big fans, too! We formed GAPWORX to help small and mid-sized companies generate more clients, revenue, profits and cash flow – to help clients identify their performance-robbing "gaps" and then "work" to resolve those challenges – the inspiration for our name. We help business owners align company Mission, Vision and Purpose with company culture to increase sales performance. We improve employee behaviors to better serve and retain customers. Our project work integrates expertise in sales, marketing, communications, planning, training and management processes.
Mark and Jon knew they wanted professional assistance to help with setup of their QuickBooks accounting software and ongoing QuickBooks support. While attending an OffiCenters event in November 2014, Jon reconnected with Paul Kloster, a former partner with Jon at Applied Humanics. In 2010, Paul formed PEK Accounting Consulting and became a VirtualOffiCenters client at their France Avenue location.
At the Networking event, Paul met Mark as well; they discussed GAPWORX and their need for QuickBooks accounting setup and support. In April 2015, Jon, Mark and Paul met and reviewed the financial information for the QuickBooks setup and the records of first quarter 2015 transactions.
Jon, Mark and Paul now meet quarterly to review the quarterly transactions; Paul then enters the transactions and produces the up-to-date Balance Sheet and Profit and Loss statements. Being timely with financial information is important to GAPWORX, and as our firm grows, we will be working even more closely with Paul to keep our financial reporting.
To CONNECT with Mark/Jon or Paul, see their CONNECT B2B Directory listing.