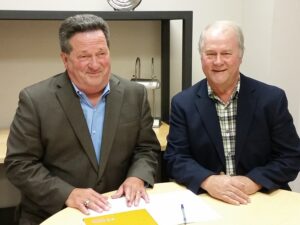 Donald Hoffer, full-time client at Park, has been an insurance professional for over 25 years. Named a Five Star Health Insurance Professional in 2010 & 2011, Don has established the ability to create money-saving solutions for businesses and individuals that exceed expectations.
Kent Peterson, Founder of Mediation One, has been a VirtualOffiCenters client since 2011. Kent is a Certified Divorce Financial Analyst who has more than thirty years of experience in mediation, investments, real estate and banking.
Below, learn just how easy it was for them to CONNECT in one of our spaces:
Don Hoffer and Kent Peterson bumped into each other in the Annex at Park OffiCenter as they were lined up for their coffee one morning. They are both very social, and ended up talking about the coffee and donuts sitting back in the kitchen area, uneaten! Kent later stopped by Don's office and learned that Don was someone who Kent needed in his practice: a convenient health insurance resource for his divorcing clients at the St. Louis Park location. Kent has referred a number of clients to Don, and they both appreciate being surrounded by professionals that can also help their clients, especially during a difficult time in their lives.
You can reach Kent by email at kpeterson@mediationone.org or by phone at 952-937-8300. For more information on what services Kent offers, you can visit his website.
Don can be reached at 952-582-2995 or by email at dhoffer@ocenters.com. To learn more about what type of insurance Don offers, click here.