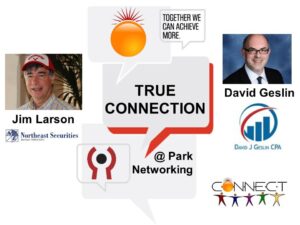 Jim Larson, Investment Advisor with Northeast Securities, Inc. and David Geslin, CPA are both full-time clients at Park OffiCenter. They first discovered a personal/family CONNECT-ion that grew into Jim and David finding a way to CONNECT their businesses. Below, they share the unique way they met and more about the partnership they created through being a member of the OffiCenters community.
Jim shares: "David and I met a couple years ago when he opened his office a few doors down from mine at Park OffiCenter. I noticed a picture of an Church Organ on his wall, inquired about it and found that David not only was a master Organist, but also had played an Organ that my Grandfather procured in the 1960's for Central Lutheran Church in Downtown Minneapolis. Since then, we have asked and answered any number of CPA Questions (David), Legal Questions (Amanda, who works with him), and stocks and bonds Questions (Jim). We have shared any number of clients, all whom have been happy and well taken care of in our respective CPA – Legal – Financial Planning worlds.  David and Amanda are a delight to work with, always know the answer to my complicated questions, and I look forward to many years of working with them."
David added: "Jim and I have had offices near each other for the last 4 or 5 years. We even moved to the same other side of the office at about the same time a couple years ago! Since we both work odd hours, we started talking to each other and found out what the other did for work. We frequently have questions that pertain to each other's areas of expertise, so we started using each other as a resource for questions. In my tax practice I have opportunities to refer people to investment advisors like Jim and it is nice to be able to walk someone to his office and introduce them to him. I have had many years of working with trust and estates taxes, so I am a resource for Jim and his clients and he is able to be a resource for us and our clients as well.  It has been great to have a knowledgeable person like Jim to work with and refer client to."
To CONNECT with David or Jim, see their CONNECT B2B Directory listing.