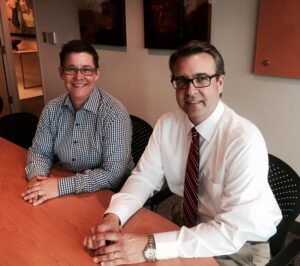 Chris Tymchuck, of Unique Estate Law, and Bob Kellermeier, of Kellermeier Law, have both been long-term clients at OffiCenters.  They have both benefited through assisting each other on client matters, collaborating on files, or sending client referrals. In addition, they are able to use one another as a trusted and experienced professional to discuss issues related to their individual practices.  As solo attorneys, their greatest benefit is to have another attorney with a similar practice as a resource and referral partner only two doors away!
Chris Tymchuck of Unique Estate Law is an estate planning and probate attorney who started with OffiCenters as a virtual client in 2010. After erroneously renting office space elsewhere, she realized what she was missing in her practice and rented a full-time office at our France location. Chris shares more on connecting with Bob below.
"I met Bob through a networking event and thus began a mutually beneficial collaboration. Bob has extensive experience in business and property matters that often come up in estate planning and probate cases I handle. I have been fortunate to be able to go to Bob to work through complex legal issues as a "sounding board" – an arrangement that has proven immensely valuable to me as a solo practitioner – and I have had the opportunity to refer clients to him. I have referred clients who seek assistance in areas in which I don't practice and on cases where Bob and I have worked together to the benefit of our client. Working at OffiCenters has afforded me the opportunity to meet other professionals who are willing to share their time and expertise to make me an even better estate planning and probate attorney."
Bob Kellermeier has been a full-time client of OffiCenters since 2008 and has been a practicing attorney in the areas of business law, real estate law and estate planning for 27 years. Below, Bob shares how his business has benefited while being a member in our community.
"I really appreciate all of the professionals that we have in our France Avenue location to collaborate with, run ideas past and do business with like Chris.  Chris is a great attorney and I highly value being able to both work with her and refer clients to her knowing she will do a great job.  Working as an attorney, you are always learning new things and need to keep up with the latest developments in the law. Having other attorneys and professionals in our office suite, like Chris, is a great way to keep up with changes in the law, develop business and most importantly cultivate business relationships. Also, we need to mention the fantastic job that the France location staff of Jill, Fay and Shannon do to foster relationships, collaborative work and referrals among the France location professionals."