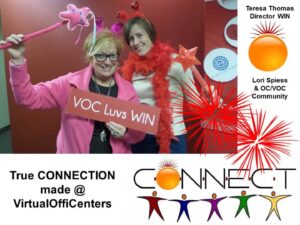 Teresa Thomas is the Director of Women In Networking (WIN), a group where entrepreneurial-minded women come together to make meaningful business connections and gain resources and information to grow business. Their members include: female entrepreneurs, business owners and key players in business that offer one another's encouragement, knowledge, talents, and resources. Below, Teresa shares why joining VirtualOffiCenters has been a perfect Win/Win connection for several years.
I can't say enough good things about VirtualOffiCenters. Not only do they delight with their customer service and professional work environment, they also provide opportunities for people to make great connections to further their businesses. VirtualOffiCenters is a wonderful resource for WIN members, many of whom are entrepreneurs. Their services and meeting spaces accommodate our member businesses at each stage of their growth and their community serves as great connectors and resources. I have strengthened many relationships with WIN members by running into them at OffiCenters - It's a popular place!
I have attended many events at OffiCenters and have made lots of really great connections. We have also held WIN events in their spaces for the past several years in which WIN members and OffiCenters clients have a chance to come together in a lovely, professional space to network.
I have had the good fortune of being introduced to (and making introductions for) wonderful relationships in their CoWorking spaces. For example, Tai Goodwin, a WIN member and client VirtualOffiCenters, was meeting with NY author, M Shannon Hernandez, The Writing Whisperer. After Tai's introduction, I kept in touch with the author and she recently interviewed me on her podcast. These types of connections happen frequently.
Both WIN and VirtualOffiCenters provide ways to help you succeed and to re-energize to take on any challenge by knowing you aren't "in it alone". Thank you to VirtualOffiCenters for providing us with connections, energizing environments and the best staff.
To CONNECT with Teresa Thomas, see her listing in our directory or visit her website.