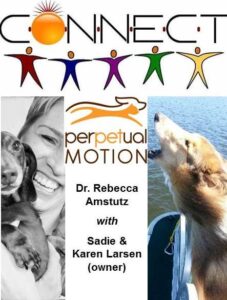 Dr. Rebecca Amstutz, Owner of Perpetual Motion Animal Chiropractic, has been a VirtualOffiCenters client at France for 4 years. Due to the nature of her business she has made some unique and meaningful connections within our community. But her connections have an interesting "twist" as she helps our pets live longer and happier lives. Here is one, of many, stories that Dr. Rebecca told us about:
I was introduced to Karen Larsen, a France OffiCenter Client in July of 2011 through Jill Countryman, Center Manager at France OffiCenter.  At the time, Karen had a 12 year old Collie, Sadie, who was beyond life expectancy for that breed.  Sadie was having difficulty with mobility as a result of arthritis.  She had difficulty getting up and also with walking, which was one of her favorite things to do. In talking with Jill, Karen decided to give my services with Perpetual Motion Animal Chiropractic a try so that Sadie's quality of life would improve. With chiropractic care Sadie was able to enjoy many more walks and rides on her pontoon at the family cabin.  Karen and her family were able to enjoy Sadie for two more years of life after our introduction. The services I provided not only meant a lot to Sadie, but also to Karen and her family.
Thanks to the OffiCenters and VirtualOffiCenters community my business has grown through referrals. Additionally, the staff has been there to support my business with tasks that I was not able to keep up with as it has grown. I am appreciative of their work in supporting my business and for the connections. I have met and helped many other concerned pet owners just like Karen (and Sadie)!
To CONNECT with Dr. Rebecca see her listing in our directory or visit her website.