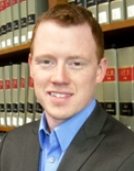 Joshua Newville, An Employment and Civil Rights Attorney with Madia Law, is a passionate advocate for victims of discrimination and unfair treatment. Josh has played an integral role in the historic marriage equality act, and below shares more about his most recent success.
Every business has a story, tell us yours.
I was interested in law in 2nd grade, when I wrote that I wanted to be a "layer" when I grew up. I'm from rural Wisconsin and became passionate about combating discrimination as a teenager. When my home state passed a marriage equality ban in 2006, I resolved to fight such issues as a lawyer.
During my first year of law school, I clerked for Ashwin Madia. He had opened his own practice at OffiCenters Union Plaza a year earlier. Working for him was awesome. Ashwin is a passionate advocate for justice and an exceptional lawyer. He's also an incredible teacher.
Since graduating in 2012, I have worked full time at Madia Law, where we represent individuals and small businesses primarily in employment, civil rights, and business litigation matters.
You were chosen as this month's Success Client. Tell us about your most recent Success.
In early 2014, I took on the last two unchallenged marriage equality bans in the country—both South and North Dakota. On behalf of 13 same-sex couples in states, I filed lawsuits demanding that same-sex couples and their children be treated equally under the law. That led to the incredible opportunity to work with lawyers in other states and national organizations who were also challenging other state bans—including the cases that ended up at the Supreme Court.
In January of this year, we won the South Dakota case when the federal district court struck down that state's marriage bans and anti-marriage recognition laws as unconstitutional. I then defended the ban on appeal at the 8th Circuit Court of Appeals. And in April, I attended Supreme Court oral arguments. When the Court issued its landmark decision on June 26, it confirmed the reasoning in our South Dakota win and also allowed judgment to be entered in favor of my clients in North Dakota.
Ashwin and I are very excited about our involvement in these historic cases.
No one likes to brag about their business, but if you HAD TO . . .
Madia Law has a different business model than many law firms. Many firms sign up as many clients as they can and settle the cases as quickly as possible for a relatively modest amount of money in order to move on to the next case. Madia Law is different. We screen cases heavily and take on fewer clients than most firms – we then litigate those cases hard. We take more depositions, do more discovery, and build strong cases in order to get to trial. This raises settlement values of cases by hundreds – and sometimes thousands – of percent. And of course, if the case doesn't settle, we're ready, willing, and eager to try it to a jury.
We learn from our mistakes, especially in business. Give us some words of wisdom.
While I tend not to shy away from a challenge, I also try not to reinvent the wheel. Perspective is so important. Most of the time, someone's dealt with my tough issue before. I seek out the advice of people who've done this much longer. Being at OffiCenters has definitely helped that.
Share the best advice you ever received.
Our most challenging battles are within.
Describe your perfect day off.
Nothing's more relaxing than deep being in the woods or on an island away from everything. I love getting away to cabins, the boundary waters, national forests, the Florida Keys, etc.
What might someone be surprised to know about you?
I love skydiving.
Together we are stronger. Tell us something you like about being our client.
Our center manager Ana's investment in understanding our business and working with us has been incredible.
If you could work anywhere under the sun, where would you choose?
I'd love to be able to do this job while consistently traveling all over the world.
How can people CONNECT with you?
Madialaw.com; joshuanewville@madialaw.com; 612.349.2743; Twitter, LinkedIn