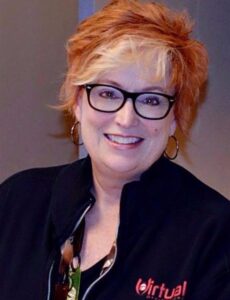 Lori Spiess is the owner of OffiCenters and VirtualOffiCenters with five spaces that have been completely renovated and thriving as hybrid business center/coworking spaces. Her most recent accomplishment is the completion of Minnetonka OffiCenter, now "Open for Business". She is a proud Past President of the Global Workspace Association and winner of their Most Innovative Workspace Award. This month Lori celebrates a milestone Birthday (60!) and in June, OffiCenters turns 35! Another milestone?!
Every business has a story, tell us yours.
I think everyone knows that I started working for OffiCenters in the beginning and bought the company with my business partner at the time Jeanne Braun. We went through a few different office service business models before we focused on the office business center concept. OffiCenters was our strongest brand and the one that I loved the most. I bought her out in 1990 and have been the sole owner ever since. I rebranded with VirtualOffiCenters 6 years ago and have turned our business into one of the first full hybrid business center and coworking spaces in the country. We have been stand outs in the Global Workspace Association and won the Most Innovative Workspace Award 2 years ago. With Minnetonka completed, it may be our year to win again!
You were chosen as this month's Milestone Client. Tell us about your Milestone achievements.
April will be my 60th birthday and June 1st OffiCenters 35th birthday. This years is a huge milestone year for me and for the business. I can say that it is the year I will do my best work and I still love what I do. I hope it shows.
No one likes to brag about their business, but if you HAD TO . . . 
How could I not say that I am blessed with the best team and clients that anyone could ask for. Many of us have grown together and when I look back at the thousands of businesses that got their start or have grown in our workspace, I cannot be more proud of the work that we have done in our company and on behalf of our clients.
We learn from our mistakes, especially in business. Give us some words of wisdom.
Get your bills out. Collect the money. Hang out with people who inspire you and have great ideas. Time share is never a good idea.
Share the best advice you ever received.
Make your best guess. Nothing is ever black or white but indecision can kill any business. Make a decision and go with it. If it doesn't work, change directions. But do not waste time doing nothing or pondering. Get on with it!
Describe your perfect day off.
A day on the water in Lake Havasu and a night after with chips and salsa and Margaritas. Perfection in my happy place.
What might someone be surprised to know about you?
I come from a tight Italian family and my 88 year old parents live next door to me. I cook a mean pasta. Seriously.
Together we are stronger. Tell us something you like about being our client.
I love the energy and the talent in our community. I love to use members as vendors and consultants whenever possible. I live by the "stronger together" principal every day. I walk the walk. I would be nothing with collaboration of those of you in the OC community. You know who you are! You've helped me dream, plan, and be what we are today.
If you could work anywhere under the sun, where would you choose?
DUH! Why do you think I put this together? Because it is the best place to work awesome!
How can people CONNECT with you?
I am always around. Just ask! And how about coming to our Minnetonka Grand Opening on April 14? I will be there celebrating with all of you! This new center is my 60th birthday present to me!