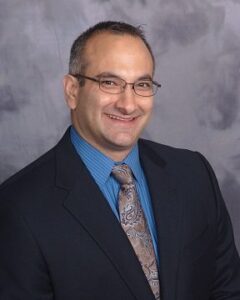 James Romeo, Agency Owner at MediChoice Insurance Agency, uses his customer service background and an educational approach to help individuals and families understand their insurance options and find solutions for their insurance needs. James shares more below!
Every business has a story, tell us yours.
I graduated from University of Wisconsin Stout with a Hospitality and Tourism Management Degree and worked in the Hospitality Industry for 14 years for companies like Walt Disney World and Sheraton and every day I bring that world class Customer Service experience into our Agency. We started MediChoice Insurance Agency in 2013 with my Dad Joe, and we have over 15 years of Insurance sales experience. Both of us were working full time for other insurance companies selling Medicare Health and Drug Insurance and we decided that we wanted to give our clients choices when it comes to choosing their Medicare plans, hence the name MediChoice. Our Agency which will soon have 5 agents specializing in Medicare Health and Drug insurance for seniors. We also sell other insurances such as Dental, Life and Individual and Small Business Medical Plans.
You were chosen as this month's Innovator Client. What does being an Innovator mean to you?
I worked at Walt Disney World in Orlando for many years and I think that one of Walt Disney quote sums it up. "I dream, I test my dreams against my beliefs, I dare to take risks, and I execute my vision to make those dreams come true."
No one likes to brag about their business, but if you HAD TO . . .
We are excited in the way that we have built our business with hard work, long hours and lots of referrals and word of mouth. Yes, we have used other traditional marketing but we have found, if you treat people right and solve their problems then they will tell others and that is best form of advertising.
We learn from our mistakes, especially in business. Give us some words of wisdom.
Learning what your strengths and weaknesses are, as a business owner you can't be great at everything it takes to run a business. So, be great at what you do well and get help from experts for everything else.
Share the best advice you ever received.
"Inch by inch life's a cinch, yard by yard life is hard" -Joe Romeo and where ever he heard it in his many years of sales experience.
Describe your perfect day off.
I would love to sleep in past 11 AM for once! Followed by a nice relaxing round of "supposed to be" Golf. You know how to play, it's not "supposed" to be in the water, not "supposed" to be in the sand trap, it's "supposed" to be on the fairway or green. Of course, it would be at an amazing golf course that overlooks the ocean. Then sitting with my feet up relaxing with a good bottle of wine or two surrounded with great friends and family watching the most spectacular and colorful sunset over the water. The night would never end with good food and drinks, dancing and all that goes with that!
What might someone be surprised to know about you?
I was snowboarding in Minnesota way before it was mainstream and it was not allowed at some of the Ski Hills in the area. I would get chased by the Ski Patrol and asked to leave a couple of places because it was "not safe". Now they have built Snowboard Parks at those same Ski places years later. Interesting.
Together we are stronger. Tell us something you like about being our client.
At St. Louis Park, I love the support staff Jen, Ashlie and Shannon they always greet me and my clients with big hellos and smiling faces. It is such a pleasure to have the feeling that our office is the entire 7th floor instead just the office. Lisa is amazing I wish I could just bottle 1/10th of her energy! You girls are all the best.
If you could work anywhere under the sun, where would you choose?
It would have to be someplace warm that I could sit outside or in a breezeway with warm tropical winds, nice view of the pool or ocean and long flowing white curtains.
How can people CONNECT with you?
You can stop on and find James & Joe Romeo in 724 at Park OffiCenter. Call me at 952-367-6350. Visit our website for upcoming Medicare events.